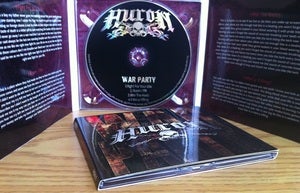 £

8.00 - On Sale
WAR PARTY
This is the third release by Huron!
It comes in a gorgeous glossy digi pack!
A new direction for the band incorporating more of a modern feel but still retaining the Huron groove and stadium-esqe choruses.
"The title says it all! The brutish grooves and snarling attitude on "Bite The Kerb" and "Mercy Killing" are suitably belligerent, with choruses to put Huron on the radar of Five Finger Death Punch fans!" .... Metal Hammer magazine review - August edition 2012
Only 500 copies being printed worldwide!
Released June 1st 2012.
War Party track listing:
1. Fight For Your Life
2. Room 174
3. Bite The Kerb
4. Mercy Killing